You have a special day coming up. Someone you know and love is getting married! You've picked the perfect gift, but what to write on a wedding gift tag? If you are stuck or you are unsure of the correct tone, format or message, then fear not. We have you covered.
On a birthday, a gift tag is something quite simple. You pop the birthday boy or girl's name on it, with a "Happy Birthday" wish and your name. Easy. When it comes to weddings, there is a little more etiquette involved.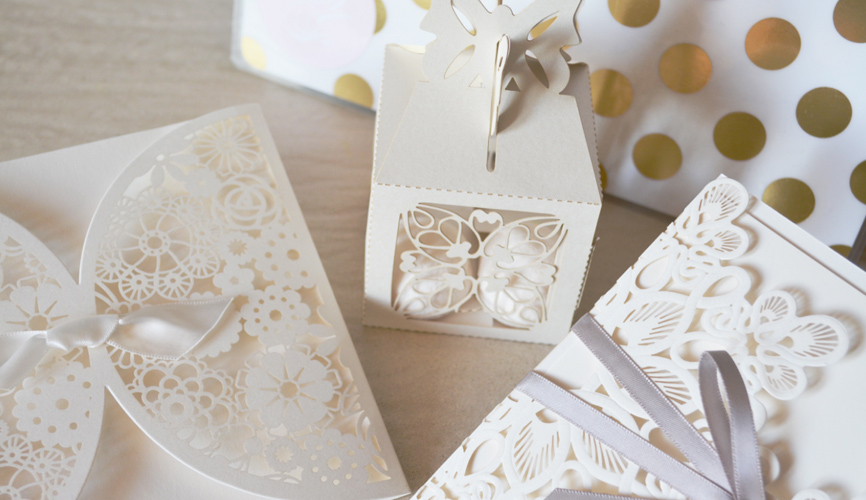 What to write on a wedding gift tag to show you care
Even if you are not the most eloquent of writers, don't worry. There aren't really any hard rules about what to write on a gift tag, just some simple steps. The gift tag is the first thing the couple will see when they look at your present. The wrapping needs to look beautiful of course, but the tag will initially tell them who it is from and contain a message direct from the gift giver. It is basically the first impression, so you want to make it a good one.
Wedding wishes need to indicate 2 things ideally:
They need to offer the couple a loving and positive wish for their marriage and their new life together
They need to be heartfelt, loving and sincere
That's not so daunting.
Traditional wedding etiquette states that you should either send your gift to the couple a few weeks before the wedding (as long as it is after you have received the invitation), or you should bring it to the reception. If you choose to bring the gift with you, then the tag is of utmost importance, as it differentiates your present from everyone else's.
What should my gift tag look like?
Gift tags come in all shapes and sizes. You can opt for a standard label size and shape (rectangular or oblong), or perhaps something a little more themed, such as a heart shaped gift tag. If you want to go all out, you can create your own custom wedding gift tags, where you choose the layout, design, and text.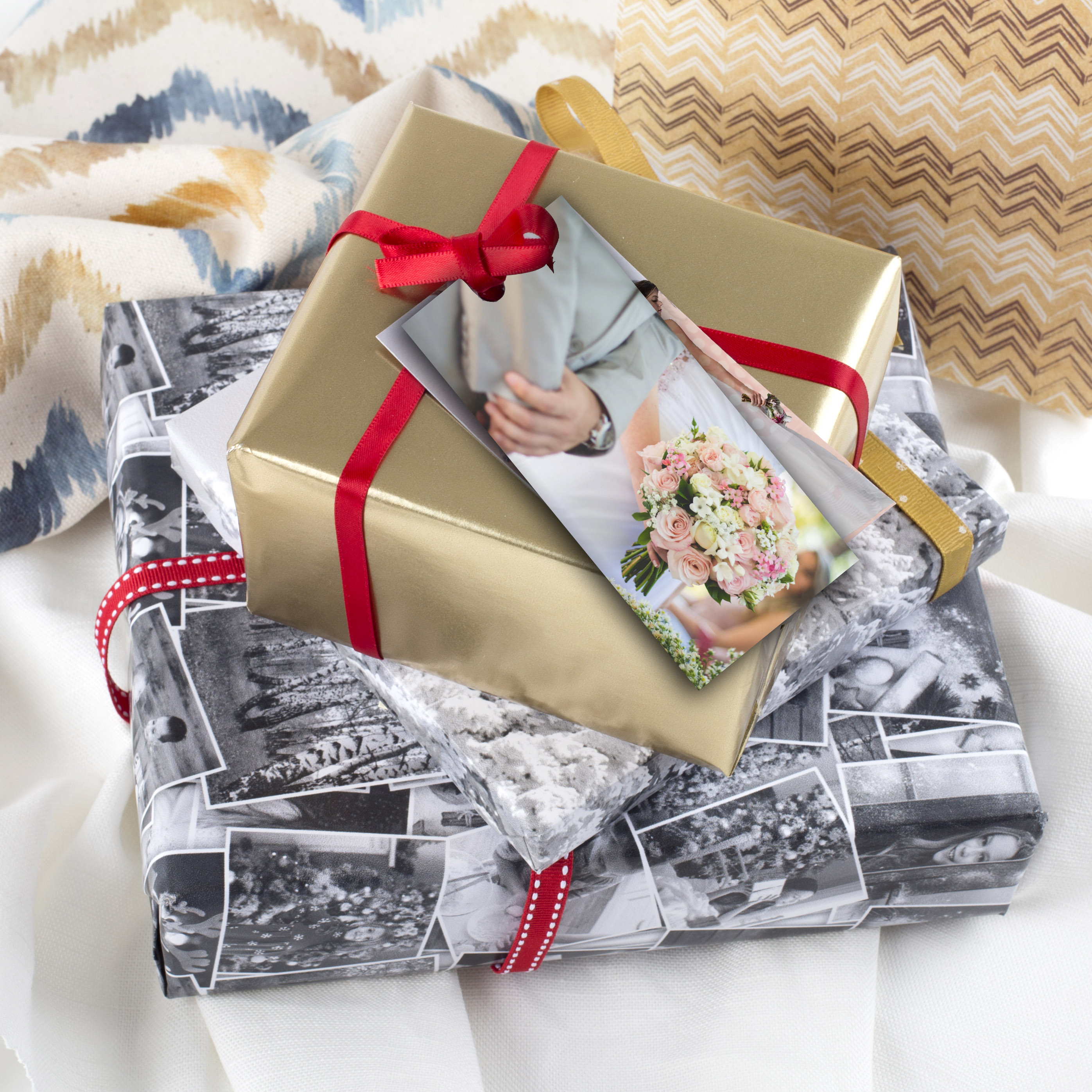 If you are opting to buy a gift from a registry, you might find that the company can create a digitally printed gift tag. Although this might not look exactly how you want it to look, design wise, you will still be given the option to write the message.
Do you have any top tips for writing the perfect wedding gift tag?
From funny and intimate to soppy and sentimental, there are so many wonderful things you can write on a gift tag. You can spend so long deciding what present to buy that the thought behind the gift tag just falls by the wayside. A beautiful gift will show you have taste and you know what the couple will like, but the words on the gift tag can take your present to a whole other level. And you might even make the happy couple well up… in a good way!
We reached out to some wedding industry experts to get their opinion on what to write on a wedding gift tag.
Alison Tinlin from Plans and Presents Wedding Blog (www.mrspandp.com) believes that the best approach to writing a wedding gift tag is to be open, personal and for the sentiment to come straight from the heart:
"I just want to wish you the best of everything today, and always. May you be a blessing to each other, throughout the journey of your lives."
This option is ideal for taking a slightly more formal, yet still heartfelt approach. The positive wish for the day and the future is sincere and loving, without sounding over the top and too sentimental.
Rachel Mcvey from wedding blog Bridal Chic in the City (www.bridalchicinthecity.co.uk) recommends a slightly more jovial approach, if writing a gift tag for a close friend. Preferring to keep things light and on the humorous side, she says:
"Personally when writing our gift tags for a friend's wedding, I like to keep it short and personal… with a funny quote or joke relevant to the couple. I like the idea of keeping things cheeky over soppy!"
Keeping things sweet, funny and a little cheeky is a wonderful approach if you are very close to the couple. Friends, siblings and cousins are great examples where this will work.
Debbie Marks, Director of Qube Events and Productions (www.qubeevents.co.uk) believes that keeping it personal and sharing special memories or moments is the best way to go:
"Make sure you make it personal! Think what would make the bride smile when they read your tag. Maybe share a memory from the past of a time that you shared together, that relates to your gift. End with a positive hope for their future for the perfect finish."
We love the idea of keeping your message personal to the couple. It will help your gift stand out and is guaranteed to make the happy couple smile – before they've even opened the present!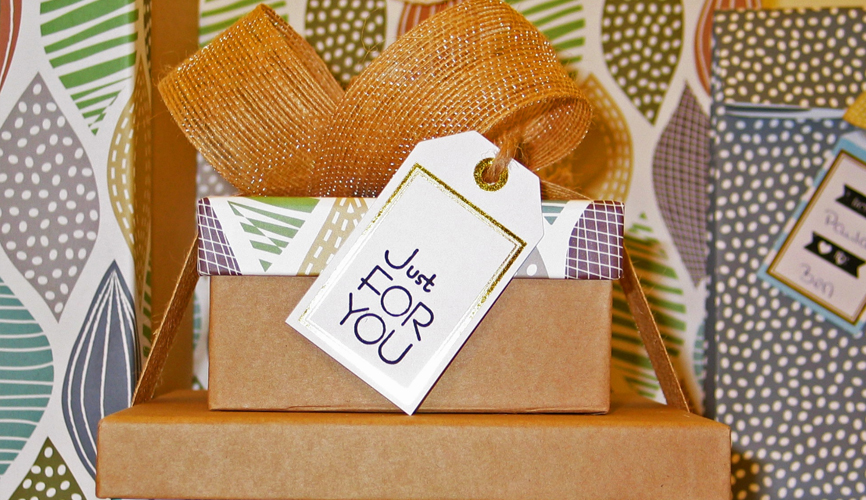 What are the best words to use when writing a gift tag?
A wedding is the most joyous time in a person's life. There are words that always go hand in hand with a wedding to highlight this:
Luck
Love
Happiness
Wealth
Health
Prosperity
Laughter
Fun
Joy
Beautiful journey
What about the word "congratulations?"
Believe it or not, this used to be a wedding day faux pas! This is because it was thought that by saying congratulations to a newly married woman, that you were actually congratulating her on catching and landing a man. Yes. We're serious. Nowadays however, this is no longer the case. It is far more common and apt to wish a couple congratulations on their special day. However, in some traditions and religions, there are different well wishes used. In the Jewish faith, instead of saying congrats, you say "Mazel Tov" which is the Hebrew equivalent of congratulations.
If you are ever unsure of what is appropriate to write, and you want to avoid your own wedding faux pas, then we suggest using "Best Wishes."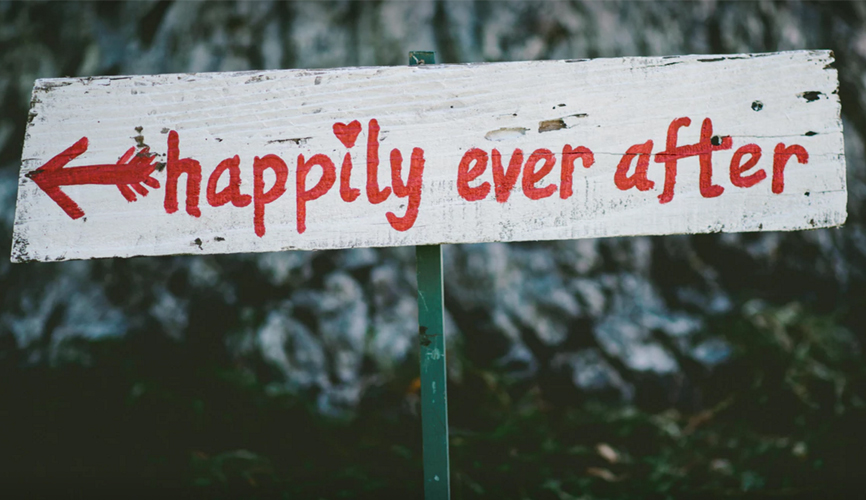 A general rule of thumb: keep the message short, simple and sweet. Wishing the couple a wonderful life together, a beautiful wedding day and all of your love for the future is perfect. Think how you can incorporate these sentiments in your own words, and personalise them slightly to suit the couple.
Think about the couple
Who are the couple?
Are they close friends, relatives or acquaintances?
Is the wedding a formal, traditional or casual affair?
Is the wedding religious?
How close are you with the couple?
Consider their personality and interests
Once you have answered these questions, it should be a lot easier to write the gift tag.
REMEMBER to be personal and use a warm and friendly tone. Try writing your words out first in rough to make sure you get it just write. Finally, spell check it. The chances are these cards and gift tags are going to be kept and treasured forever, so make sure you get it right. No pressure!
Some final gift tag inspiration…
If you are still after some inspiration for what to write on a wedding gift tag, then we have rounded up some classics. These should help even the most puzzled of you out there:
Funny wedding wishes to write on a gift tag:
Thanks for the free food and booze! Best wishes on a long and happy marriage
Now you are married, (groom's name) must master the art of saying "yes" when you actually want to say "no." Congratulations!
Congratulations! You have just paid for all of your friends and family to have the biggest party of their lives. Thank you!
Thanks for getting married and putting all the remaining pressure on me. Love you both
Formal wedding wishes
We wish you a lifetime of love, joy and happiness
May your joining together in marriage bring you more joy than you could possibly imagine
May the love and happiness you feel together today last for all your years to come
Wedding wishes for friends
Of all the big life events we have shared together over the years, this tops the list. Congratulations
Here's to you, to love, to friendship and for sharing many more happy occasions together
Congratulations to a wonderful friend and his/her new husband/wife! I have a new best friend-in-law
Wedding wishes for a family member
Many congratulations on your wedding day and welcome to our family
We are so thrilled that (name) has found "the one." Welcome to the family
We are so excited to add another member to our family. Congratulations to you both
Want to create an even more special gift tag? Print photos of the couple and memories on gift tags.