Guys, guys, guys. We understand. Choosing the perfect Valentine's Day gifts for your girlfriend can be an almightily stressful experience.
Let's be honest – there are 3 options when it comes to deciding on Valentine's day gifts for girlfriends – the most love-filled, soppy and guilt-ridden day of the year:
The Obvious Option: You opt for the fail-safe (but admittedly dull as dishwater) combo of flowers, chocolates and a card. Nice, simple, easy but so cliche and overdone.
The Dog House Option: Basically, you forgot it was Valentine's Day. Oh, dear. Now all that is left are petrol station flowers and naff cards. We would not want to be in your shoes.
The "I'm The Best Boyfriend in the World" Option: This is the only one to go for if you want to have a happy life! And it involves hardly any effort with a heck of a lot of rewards.
Sound intriguing? To work out what to get your girlfriend for Valentine's day and become a Valentine hero, read on.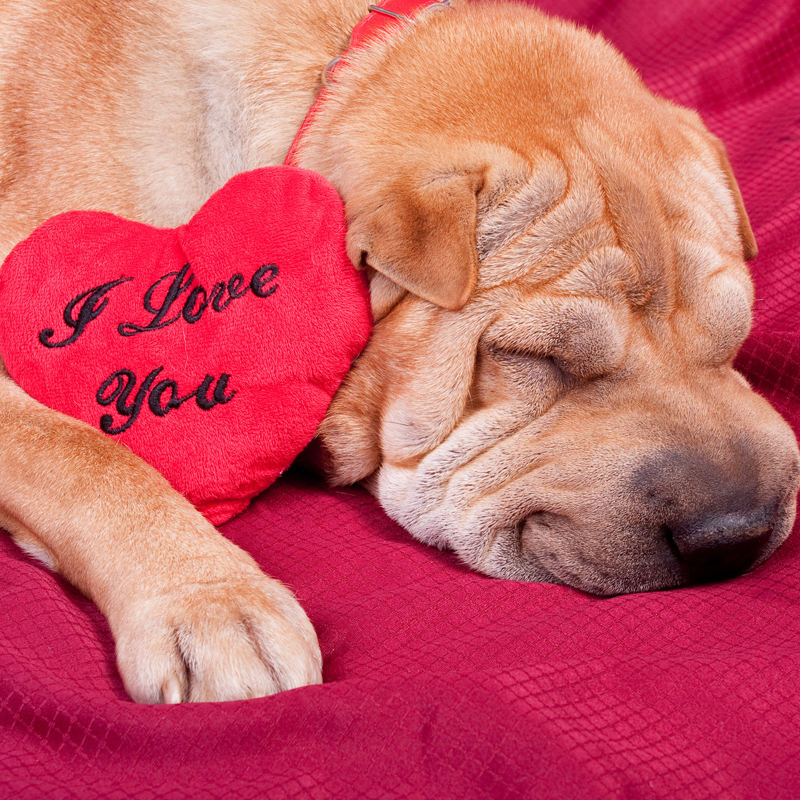 How do I choose the perfect Valentine's day gifts for my girlfriend?
It's all about getting personal. What does she love? What does she enjoy? Once you have thought of something, then all you need to do is make it even more personal to her. So, if your girlfriend is a makeup hoarder, then, yes, you could get her a gift certificate to make her collection even better, or, you could give her something, which relates to her love for lippie, in a way which makes her think of you.
Here are some key points to help you out:
What does she love? Is she into fashion, art, makeup, technology, relaxing… you get the idea.
How much do you want to spend? When it comes to Valentine's Day, it can be easy to get carried away, so best set a budget. Remember, it's not quantity but quality.
Be creative. There is nothing worse than a bog-standard, run of the mill gift, which thousands of other women will be subjected to, too. You love this girl, so put the effort in!
Don't be a cliche. Yes, Valentine's Day has become an over-commercialised frenzy, but, if you don't put a little effort in, you will be in the doghouse. With that in mind, don't be cliche with your gifts. Generic gifts are never the way to go and they just show you haven't really been thinking about her.
Don't let it end with the gift. The present is important but what is even more important is her. Once the gift is opened, there is still a whole day to celebrate your love!
9 perfect Valentine's gifts for girlfriends
To help you clueless fellas out even further, we have compiled our favourite 9 photo gifts for her, which we guarantee will make Cupid very happy with you. Just remember to keep the above in mind when creating your design and choosing your photos. Think about what she loves, why you love her, what she means to you and how you can show it. Personalised gifts are the perfect way to say these things, and the best part, you can be as creative, romantic, soppy or funny as you want!
1. Don't make me over
Your girl is gorgeous and there is nothing she loves more than experimenting with makeup, splashing her cash on her favourite eyeliner and mascara and filling her dressing table with her latest beauty finds. If you want to make her life a little easier, then a gorgeous makeup bag is a gift that she will truly appreciate. But don't just choose a random one from the shops; design her own personal makeup bag! Go for stylish vinyl or luxurious leather and create a design using photos of her or of the 2 of you together. You can even add her name, a nickname or a cute little message, so whenever she is touching up her face, she will think of you!
2. Love is in the bag
Is it a stereotype that every woman loves bags? Well, maybe, but a lot of us really do! If you want to treat your girlfriend to a gift that will make her heart go all fluttery, then have a go at designing our gorgeous, handmade photo handbag. She will have all the room she needs to lug half of her life around with her and will be reminded of you and your adorableness (we're making that a word) every time she uses it. How's that for a slice of fried gold? We call it, Valentine's Day in the bag.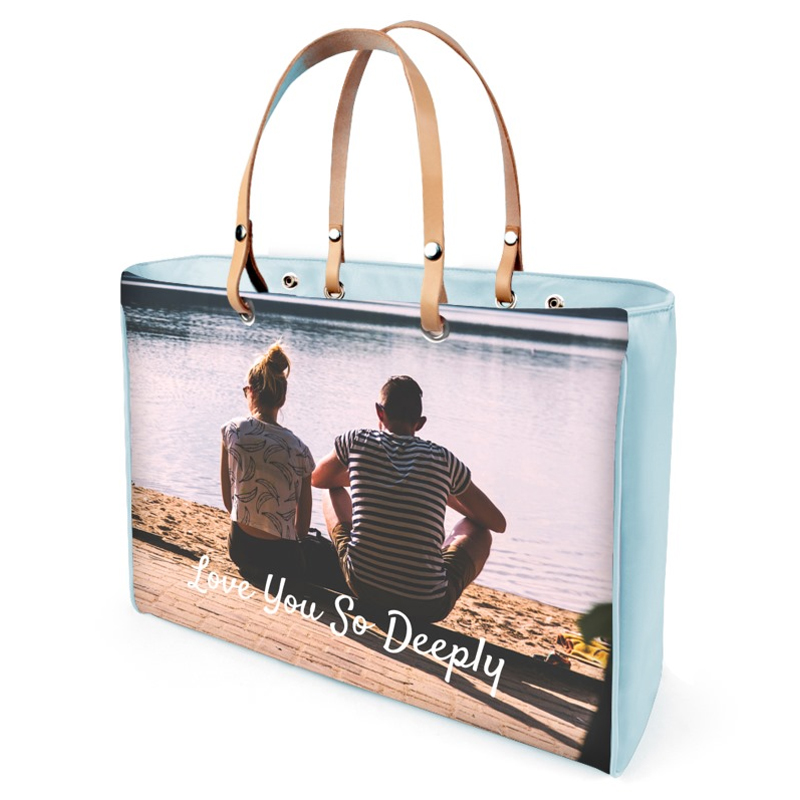 3. Wrap her up in love this Valentine's Day
Sexy, chic and stylish. Our stunning silk scarf replicates all of these attributes. Not only can you create a design to give her all of the feels, but you can also choose your fabric, size and shape. This is taking personalisation to the next level. A gorgeous scarf can make an outfit go from drab to fab and they are so easy to design. You can make it as cheesy…we mean romantic, or as fashionable as you want by adding photos, graphics and even a sweet message. This unusual but unforgettable gift will make her Valentine's Day one to remember.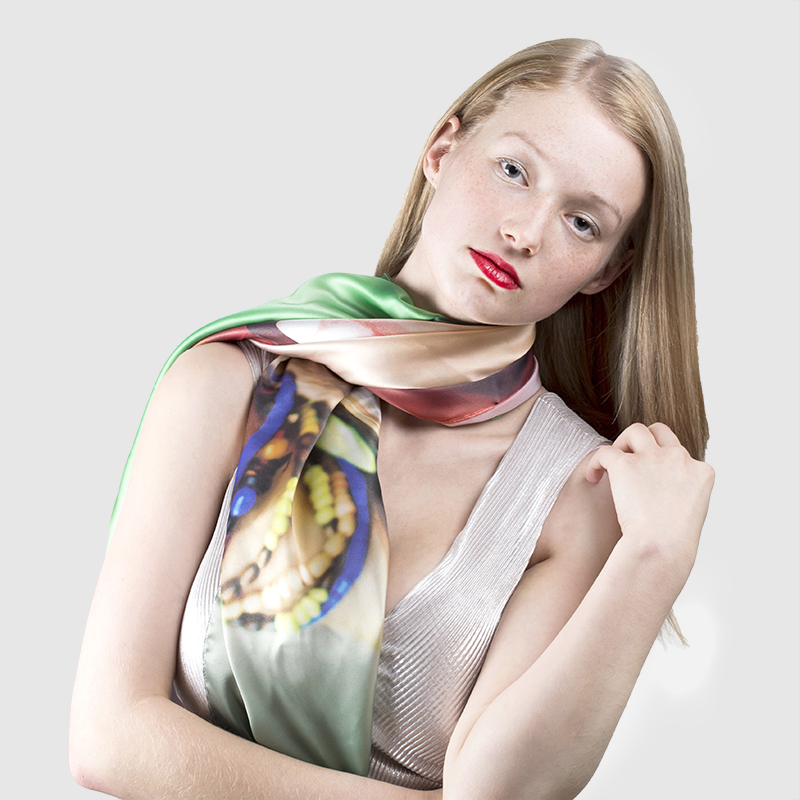 4. I heart you
Come on… it's Valentine's Day. Indulge her need for something over the top and love-filled. A heart cushion will give her something to look at, swoon over and cuddle. Custom made, this adorable gift turns a novelty gift into a gift to be treasured for a lifetime. Easy and fun to design, choose your favourite photo of the 2 of you together, or maybe just a great photo of yourself, and add a heartfelt message. Then, when you give it to her, make sure you have a packet of tissues on hand because this winner of a gift is guaranteed to cause tears of happiness!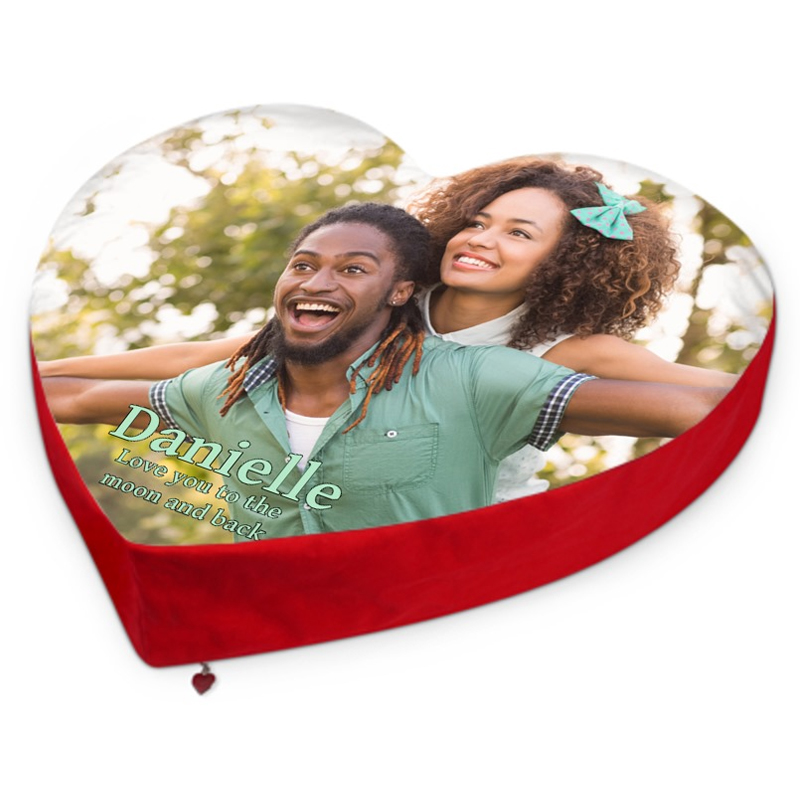 5. Get personal, and cosy
OK, this is a special one. The perfect gift to treat your girlfriend to, which will show so much love, attention and affection. Our cosy, cuddly and super soft dressing gown is sure to get you in her good books – for a couple of weeks at least! Design every section and choose from a selection of gorgeous colours for the trimmings. Why not create a design based on her favourite holiday with you or a special occasion? You can go as creative as you like… and choose from a teddy-bear like plush fabric or super sexy and sensual silk… I guess it depends if she wants to keep the robe on, or off!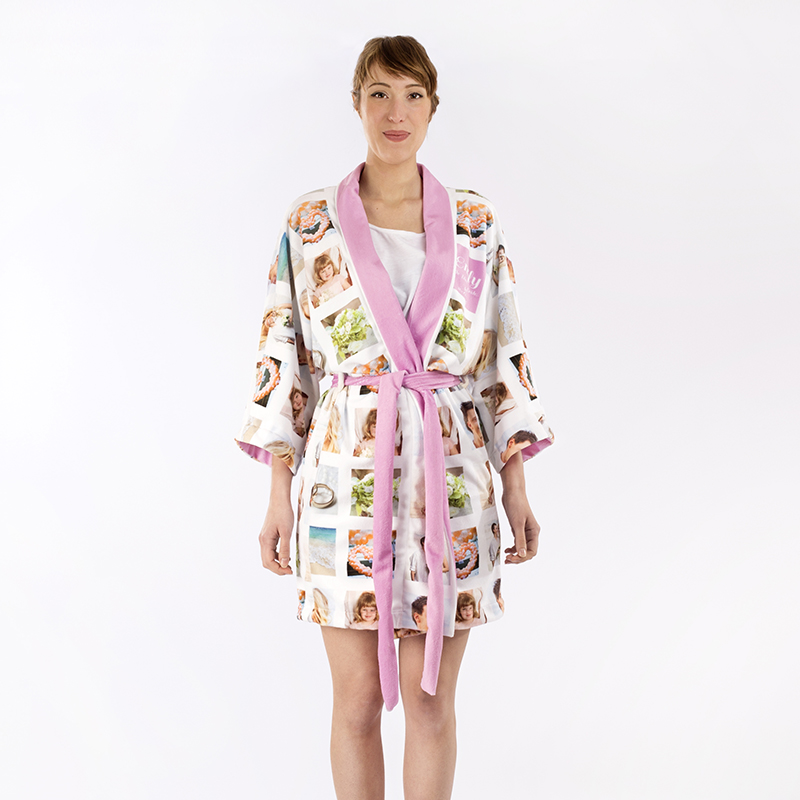 6. Show her the shape of your heart (don't you just love the Backstreet Boys?)
If you can't embrace your inner Casanova on Valentine's Day, then when can you eh? This custom love heart blanket is the perfect gift for any woman, of any age. Everyone needs blankets, everyone loves getting cosy on the couch and everyone loves to be loved! This soft and indulgent blanket features an adorable heart design with a giant heart shape space for you to upload her favourite snap of the 2 of you. Romantic, original and just a touch of cheesiness – the ultimate gift of love!
7. Indulge in a little pillow talk
Our personalised photo cushion has helped many a clueless person (yes, normally men, sorry!) out of a tight present spot. It is the perfect gift for anyone who isn't really sure what to get. You can rest assured that your gift will look good and feel amazing, as they are printed and handmade by us. Not only can you create a design based on your love, but we also throw in a cute little silver heart pendant on the zipper. This cushion was just made for love.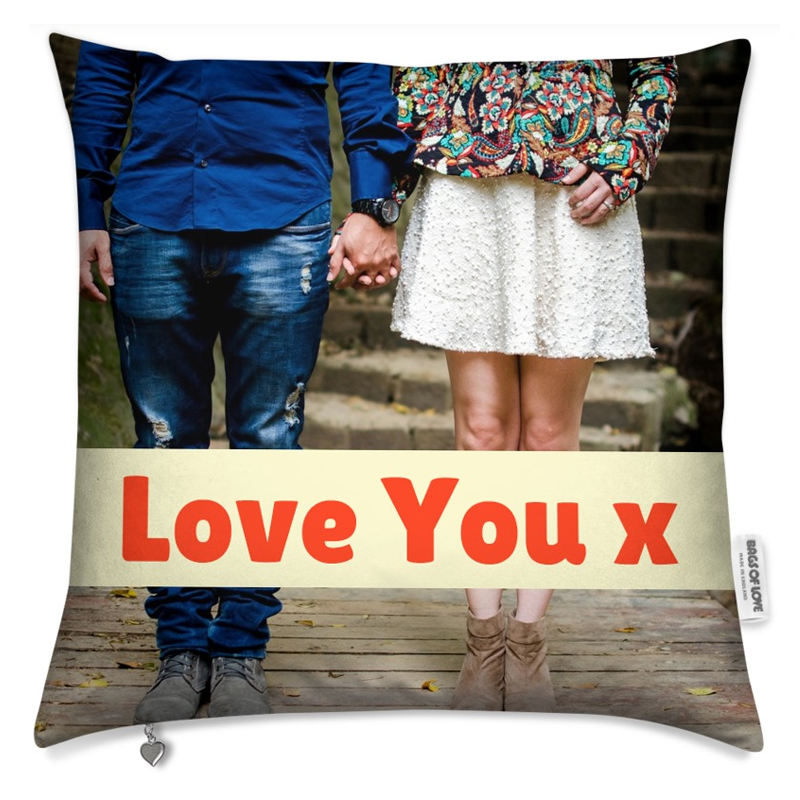 8. Get a little cheeky
We mean that literally and figuratively! Underwear can make a great gift (although we only recommend it if you know her size… otherwise, things could go very badly for you) however, you will be buying knickers that hundreds of other women will also be given on Valentine's Day! Why not go the next step and design her own pair of personalised knickers? These knickers are stunning; handmade and comfortable and, best of all, you can design the front and back. So have fun thinking up something romantic… or perhaps a little kinky!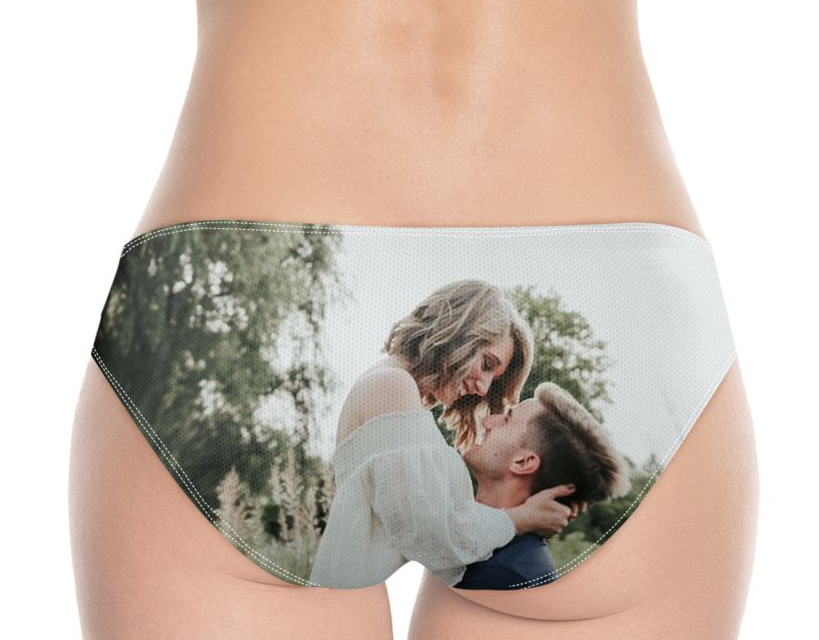 9. That's a wrap
OK, guys, you should have now chosen the perfect present for your girlfriend. To finish it off, and to add to your brownie points, have a go at making your own wrapping paper. No, you don't need to be a crafty sort to do this. Simply upload a design, photos or a Valentine's Day message to your missus and we will print it onto gorgeous, luxury wrapping paper. Just don't make a mess of it with the Sellotape!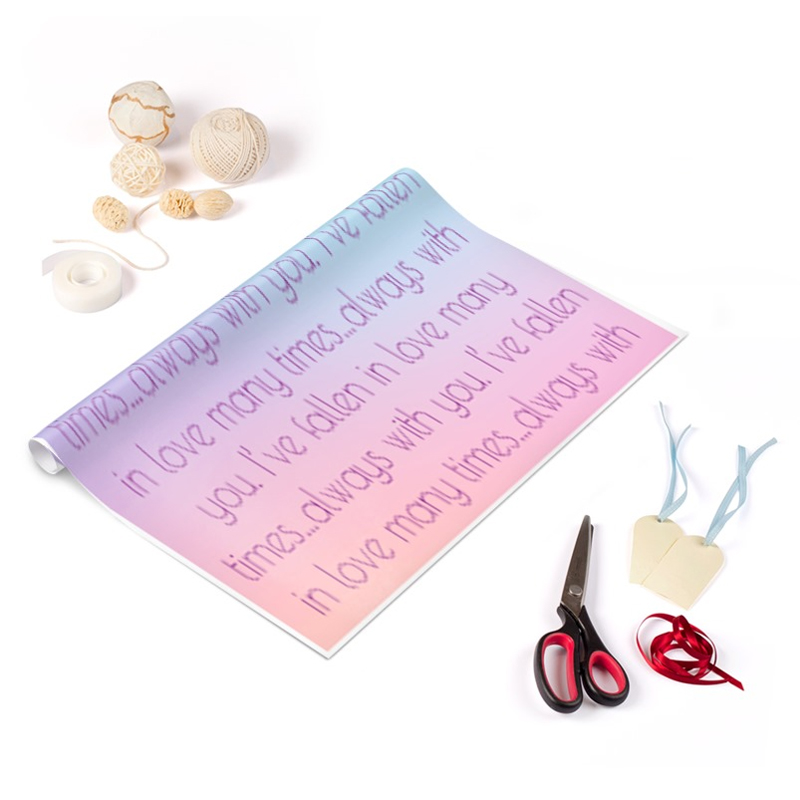 If any of these ideas float your boat, or you want a little more inspiration, then check out our selection of Valentine's Day gifts for girlfriends over at Bags of Love.