If you've been bitten by the crafting bug then just know, you're not alone! We've all been there! Whether you're jumping on the new-year-new-me wagon, or you've learned to craft and don't know where to begin, you've come to the right place. We've gathered together some of the internet's top beginner sewing projects to get you on the sewing bandwagon.
From purses to pouffes and cushions to clutches we have a project for everyone. Perfect for if you are a beginner and are just starting out, or even if you're a little more intermediate but want something that will give you instant gratification, these beginner sewing projects will still get you well on your way. So, make yourself a cuppa, grab your craft supplies and let's get creative.
1. Fabric Gift Bags
In a world full of waste, ditch the disposables and make your very own fabric gift bags.
2. Present Pouch
Got a couple of smaller gifts that you want to pop into your gift bag? Rather than wrap them individually why not make your own present pouches?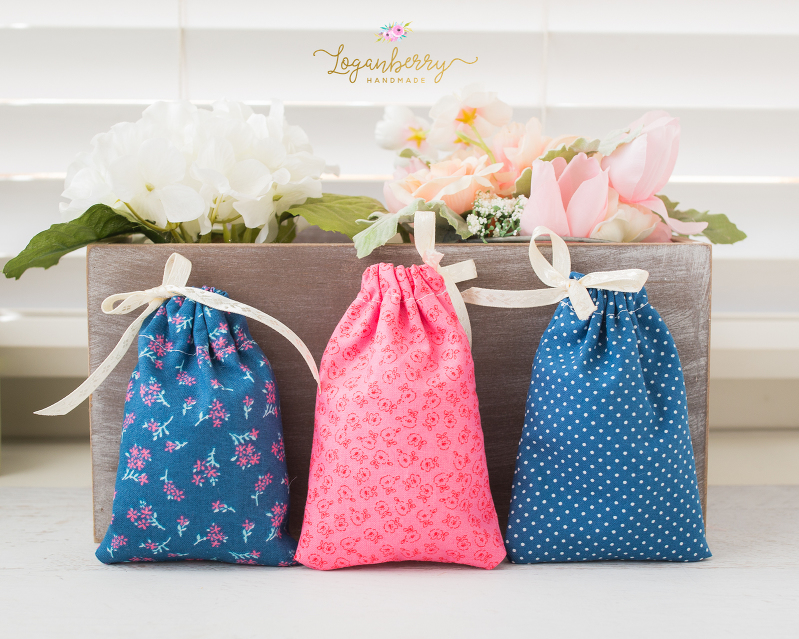 3. Drawstring Bag
When it comes to beginner sewing projects, these are a classic. These drawstring bags are so versatile. From little toiletry bags to something much bigger, they can be used as gift bags, or even to pop a change of undies and a toothbrush in as a little overnight bag.
4. Jewellery Box
Giving someone some jewellery as a gift and aren't sure how to wrap it? Don't worry, we have a tutorial for that too!
5. Coin Purse
If your pockets are always full of loose change, or you spend your time digging around at the bottom of your handbag for coins, consider making your very own coin purse.
6. Clasp Purse
This clasp purse is great for coins, or for jewellery, or to be honest for anything else that you might want to keep all together. This little beauty is lined as well if you're feeling a little adventurous.
7. Clutch Bag
Accessorise with this simple but cute clutch. You'll need just three squares of fabric to make this clutch bag so it's perfect for our collection of beginner sewing projects. Go bold and contrasting or cute and complimentary and really make this your own.
8. Crossbody Bag
Choose your own look with this crossbody bag. Whether it's for your change at the farmers' market or your sunglasses for a summer trip to the park.
9. Drawstring Backpack
This is a great project that only takes around half an hour, so you can even get the little ones involved – better still, this makes for a cracking P.E. bag or overnight bag for when they have sleepovers with their friends.
10. Tote Bag
Perfect for those trips to the shop without having to grab that plastic bag. Create your very own tote and shop in style with an eco-conscious mind. You can use whatever fabric you like (well, we're Bags of Love so let's be fair, you can create your own) and make this bright and bubbly, or sophisticated and swanky – the choice is yours!
11. Shopping Bag Holder
Are you one of those who has a lifetime supply of carrier bags under their sink too, or is that just me? Well, now you can keep them organised with your very own shopping bag holder.
12. Reusable Snack Baggie
Bear in mind that to make this one food safe you will need to use a specific fabric (details in the tutorial) but say goodbye to disposable food bags with this homemade beauty.
13. Drinks Cosy
Drinks cosies are great if you've got something that's too hot, or too cold. You could even measure out a takeaway cup and save yourself from using those throwaway cardboard ones.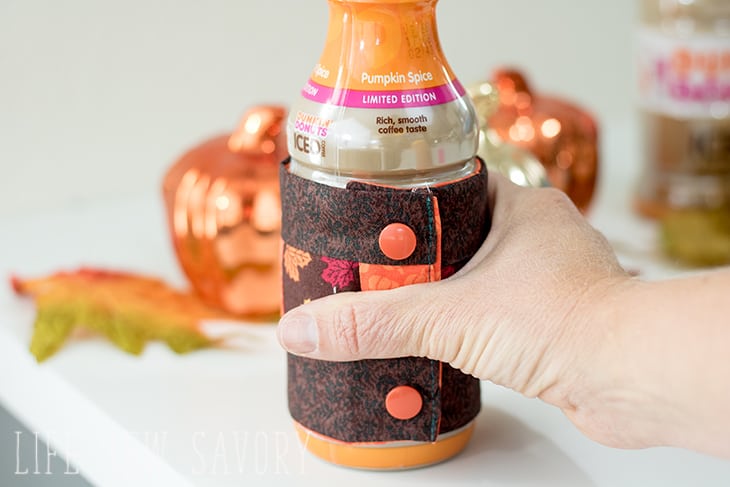 14. Bowl Cover
In essence, this is a shower hat for your bowls! Perfect to keep flies off your picnic, cover your bread dough while it proofs or even to transport a ready-made dish (it's washable so it doesn't matter if you get a little food on it).
15. Pan Handle Cover
It doesn't matter if you want to stop yourself from burning your hands, or you just want to brighten up your cupboards. You might even just want to be able to tell which pan is which with nothing but a cursory glance. Either way, this tutorial has you covered.
16. Microwaveable Potato Bag
HOT POTATO! This microwave potato cooker will stop your spuds from drying out if you're cooking them the quick way (in the microwave) because let's face it, not everyone has time to wait for hoouuurrssss…
17. Oven Gloves
What better way to make sure that you don't burn your hands when you're cooking than with a set of oven gloves that you have made yourself? Check out how with this fab beginner sewing project tutorial.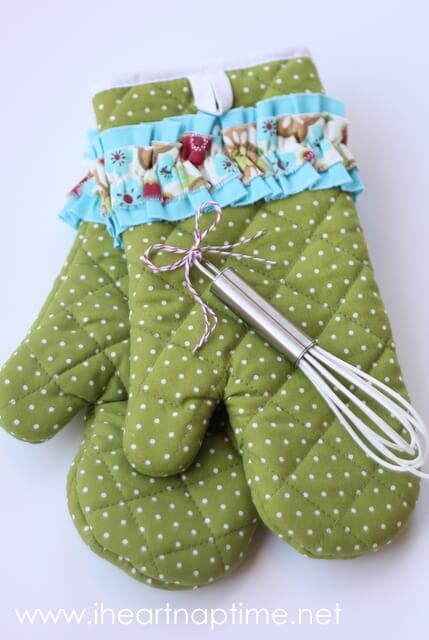 18. Napkins
Napkins are a wonderful way to set a theme throughout a dinner party, or a more environmentally friendly way to clean up after a big family dinner. Make your own and you can always ensure that they match your decor perfectly.
19. Fabric Roses
Sometimes it's nice to make things just because. This fabric rose tutorial is exactly one of those things. Beautiful and so much easier to keep alive than a real houseplant, why not give these flora a shot – you don't even need a sewing machine!
20. Coasters
These cute little fabric coasters are great for protecting your surfaces without having them stick to the bottom of your cups (or is it just me with that problem?). Check out this tutorial to find out how to make your own.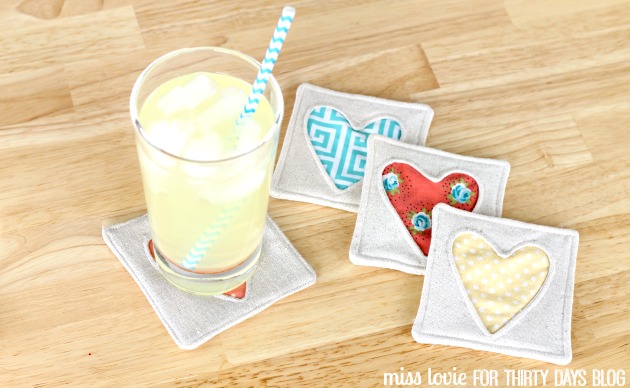 21. Cushion Cover
Cushion covers can really pull a room together, but sometimes finding the perfect set to match your home decor is a task and a half in itself. This handy tutorial shows you how you can make your own, in any fabric that you can get your hands on.
22. Starfish Cushions
Sometimes a square cushion just doesn't quite cut it, and you realise that you want something a little more quirky. If you're feeling a little more adventurous with your beginner sewing projects, these starfish cushions allow you to mix and match patterns as well as have something a little different.
23. Vintage Pillowcases
Why not take your crafty creations upstairs to the bedroom? These vintage pillowcases add a touch of that quaint little cottage atmosphere and are great for adding the perfect finishing touch.
24. Pillow Bed Chair
There are no two ways about it, this pillow bed chair is genius. It's compact, comfortable, and can be used not only when your little ones have friends over, but also when they're watching telly, reading a bedtime story, or pretty much anything to be honest.
25. Reversible Bean Bag
A reversible bean bag is a great alternative to a hard structured chair and it's so versatile that you can have two completely different designs and have it complement two different sets of bedding, two different rooms, or even for two different people!
26. Hammock Chair
This hammock chair is a wonderful idea. Personally, it makes me think of sunny conservatories and reading a book in the springtime, but it can be used all year round, and not just for reading.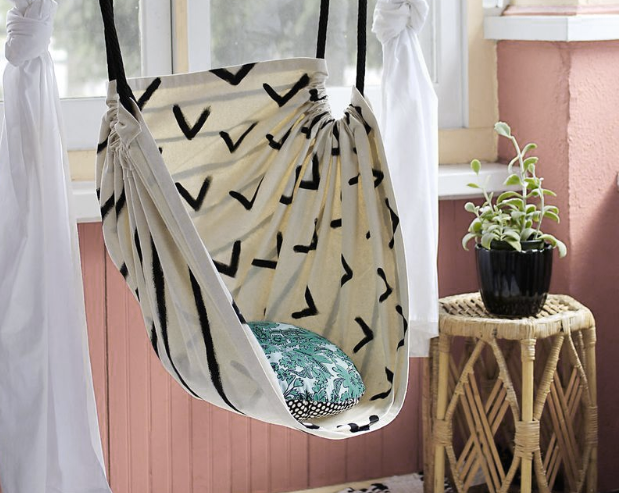 27. Pouffe
Whether you want something to pop your feet upon in the evening or an extra seat that doesn't look out of place when not in use, this pouffe ticks all the boxes. Check out this tutorial on how to make your own.
28. Car Seat Cover
This car seat cover is a great ally when you have young children. From keeping buzzy insects away in the warmer months when you're out and about with your travel system, to not waking up the littlie when you get them out of the car and all of a sudden the daylight hits them.
29. Roll-Up Picnic Blanket
This roll-up picnic blanket gives you a pillow, a protective layer to lie on and handy storage for your sunnies, your book/magazine and anything else you might want to take with you. What more could you want?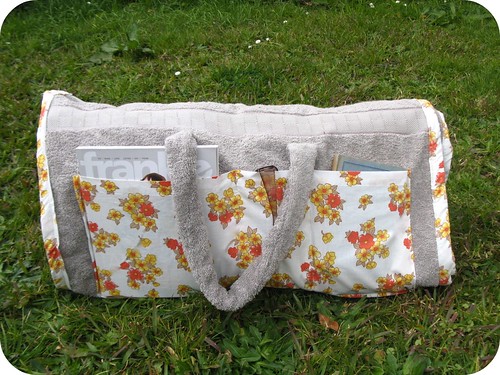 30. Double-Sided Elastic Headband
This headband is softer than a traditional Alice-band, is elasticated so one size fits most, and is reversible so you have two headbands in one. It's also super easy to make if you follow this tutorial.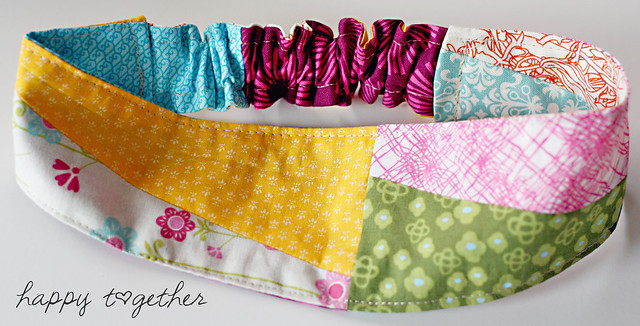 31. Baby Bobble Hats
Tiny babies in bobble hats have to be one of the cutest things I've ever seen. Beat the boring plain colours and make your own with this simple step-by-step tutorial.
32. Double Layer Skirt
This stunning skirt is everything I think I could have wanted in a skirt when I was a little girl. It's got that unique look about it, and it'll look wonderful as you spin round, and round and round and round…
33. Heathered Kimono
Kimonos are one of those things that never truly seems to go out of fashion. This tutorial was written by a beginner sewer, to be accessible to everyone, so why not have a go at making your own?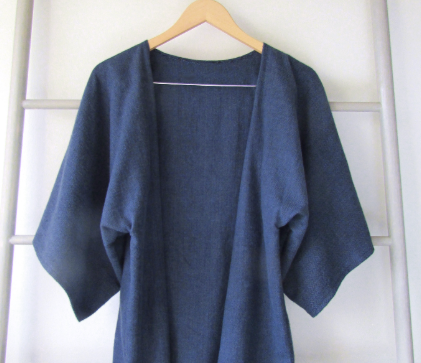 34. PJ Bottoms
This tutorial beautifully explains how to make an amazing pair of pyjama bottoms – get this – at a beginner's level! If you're not as excited about this as we are then we can't help!
35. Maxi Dress
A maxi dress is perfect for the summertime and this one is partially made from a t-shirt, so half of the work is done for you! Check out this tutorial on how to make your own lightweight, breezy maxi dress.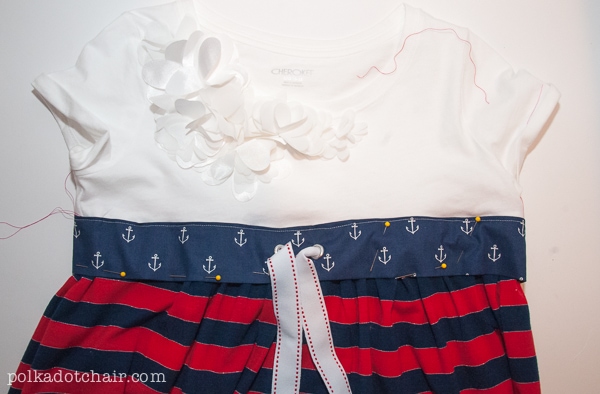 36. Caftan
Beginner sewing projects don't come much better than this – this caftan has only three seams and no hemming! This makes it both perfect for beginners and super stylish. Check out the tutorial below for more details.
37. T-Shirt
Learn how to make your very own T-shirt and grab yourself a sneak peek at the Bags of Love production department in this double-whammy video. What more could you ask for?
38. Minidress
The opposite of the maxi dress – the minidress. This amazing tutorial from the Victoria and Albert Museum shows you how to make your own minidress, and better yet, it has a super-cute collar AND POCKETS!!
39. Bralette
This tutorial shows you how to make two different bralette styles which look so professional but are super simple to make – you can even hand-sew them if you don't fancy braving a sewing machine at the moment.
40. Bunting
Birthdays, Christmas, Eid, graduation… whatever you're celebrating, bunting is a great way to set a festive mood – and this tutorial is a great way to learn how to make your very own, even if you're a total novice at sewing!
41. Wheat Pillow
This wheat pillow is perfect for those nights where the weather is getting colder. An alternative to a hot water bottle and ideal for those winter aches and pains, make yours with this simple tutorial.
42. Business Card Holder
A business card holder that is handmade by you is so wonderful. Doubly so if you have a crafty kind of business. Check out this tutorial on how to make yours.
43. Passport Holder
Create your own passport holder and keep your passport (and any other travel documents) safe and sound. The great part about making it yourself is that you can adjust to fit exactly what you want in there.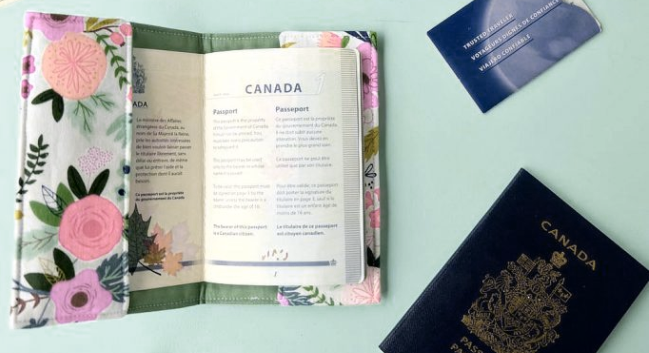 44. Fabric Pencil Case
One of the best things about crafting at home is that you can create something useful. Check out this pencil case tutorial and get yourself organised – well, at least try before you become overrun with craft supplies!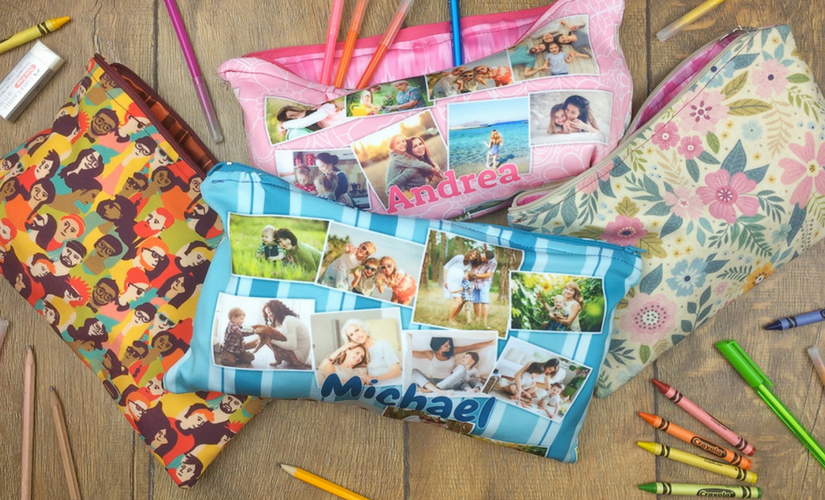 45. Cable Tidies
Phone chargers, tablet chargers, handheld console cables, headphones and so much more, modern life is full of cables that can easily get tangled. Make your own cable tidies with this tutorial and say hello to a tangle-free life.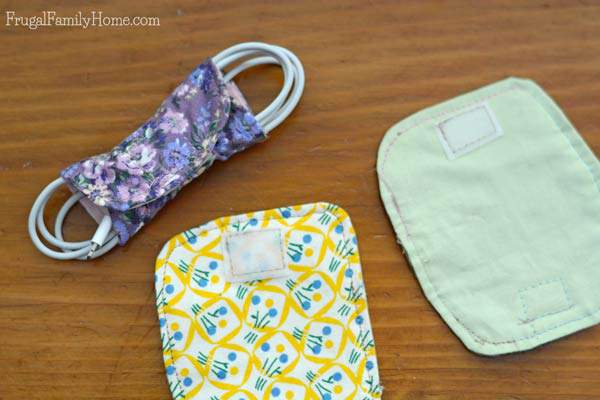 46. Earphone Holder
You can even take it yet another step further with this cute little headphone pouch. This beginner sewing project features a handy split ring, you can even attach it to your handbag or keys for easy access when you're out and about.
47. Phone Charging Station
Take the danger of tripping over cables whilst charging your phone away with this handy phone charging station. Simply plug your phone in, pop it in the holder and worry no more.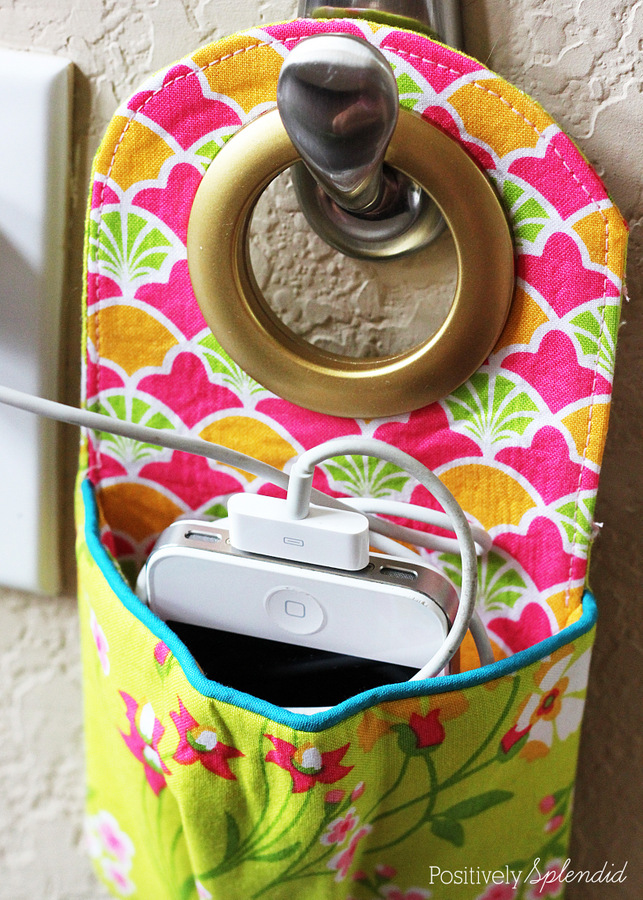 48. Christmas Stocking
Is Christmas even Christmas without a stocking? We don't think so! This is a great tutorial for making your own Christmas stocking!
49. Cat Hammock
This cat hammock is simply adorable. Make your kitty a comfy place to 'hang out' with a step-by-step tutorial on how to make your very own cat hammock.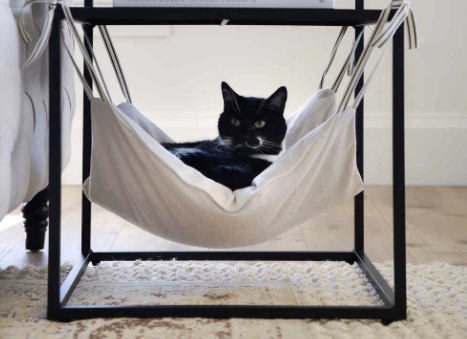 50. Dog Bed
At Bags of Love, we cater to your canine comrades as much as we do the feline friends. This tutorial explains how to make your very own dog bed that will go with any room.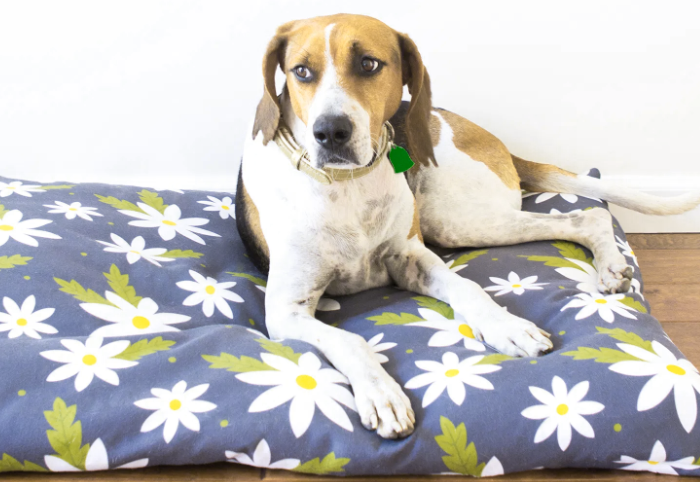 51. Pet Bandana
This pet bandana is frankly too cute not to make! You can also resize slightly for dolls, babies and you know, different sized pets! Go crazy with the print and make a complete bandana collection.
52. Hanging Towel
We just love the idea of these hanging towels! So often do I end up just kinda bodging my towel over the oven door handle only to have the cat pull it off just moments later. This super cute design makes for a fab gift too!
52 Beginner Sewing Projects
So, there you have it, 52 different beginner sewing projects. If you've mastered all of these then frankly we reckon you're not a beginner anymore! Give yourself a pat on the back and advance to intermediate.
When choosing the fabric for your craft projects, finding the print that is just right doesn't always come easy. Why not print your own? This personal touch will make your projects really you. As well as making for great gift ideas too.